Chloë Taylor is Professor of Women's and Gender Studies at the University of Alberta. Her research interests include Critical Animal Studies, food politics, Anthropocene Studies, prison abolitionism, twentieth-century French philosophy, the philosophy of gender and sexuality, and Critical Disability Studies. She is the author of three books on Foucault, and the co-editor of Feminist Philosophies of Life (2016), Asian Perspectives on Animal Ethics (2014), Decolonizing Critical Animal Studies (forthcoming) and Cripping Critical Animal Studies (forthcoming). Chloë is currently completing a co-authored book with Kelly Struthers Montford, Abnormal Appetites: Foucault and the Politics of Food, and is also at work on two new research projects: "Intersections of Animality" and "Anthropocene Affects."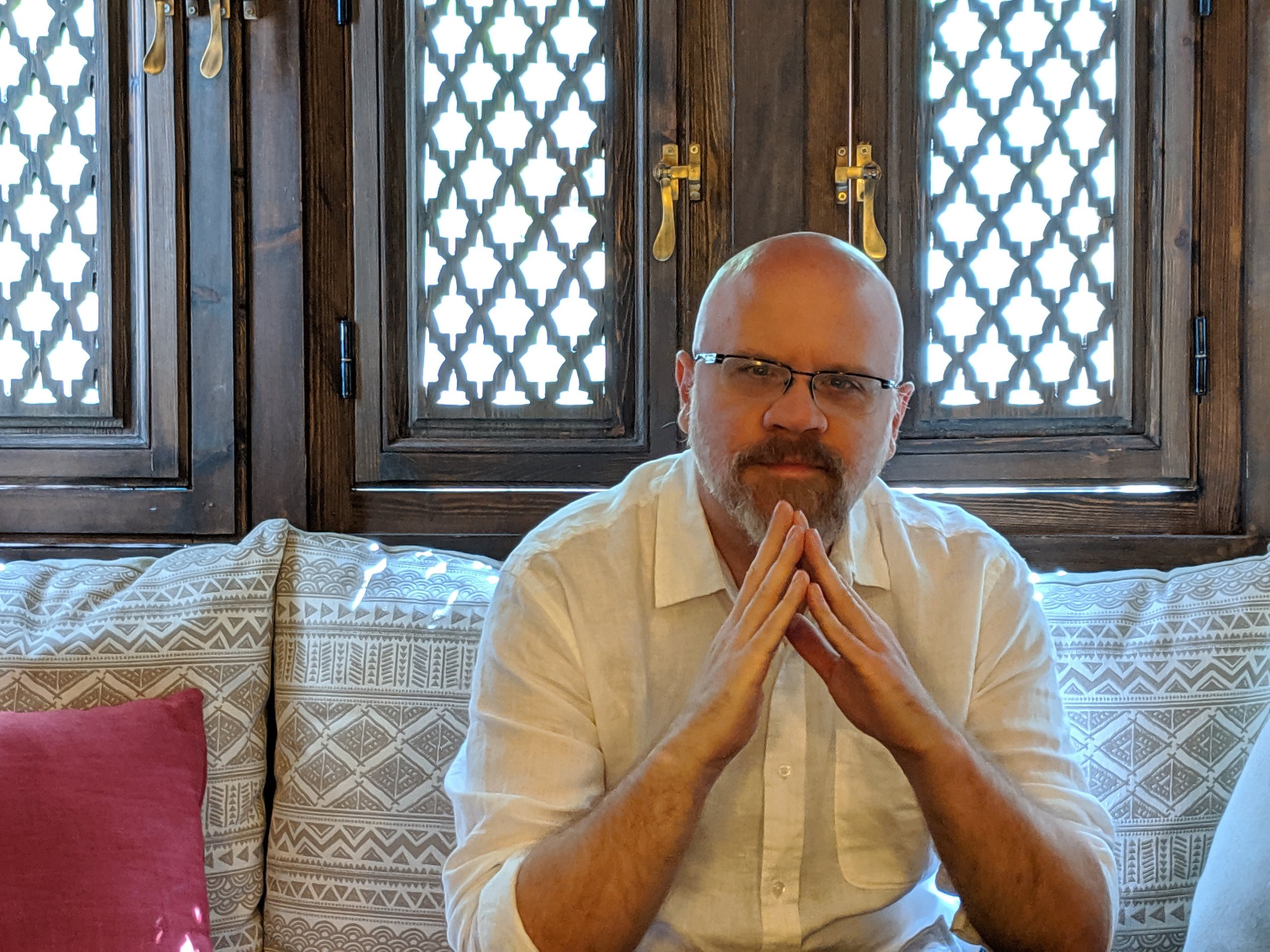 Vasile Stanescu is Assistant Professor of Communication at Mercer University. Stanescu is co-senior editor of the Critical Animal Studies book series published by Rodopi/Brill, the former co-editor of the Journal for Critical Animal Studies, and former co-organizer of the Stanford Humanities Project. Stanescu is the author of over 20 peer-reviewed publications on critical animal studies. His current research interests include Critical Animal Studies, Posthumanism, food studies, decolonialism, environmental rhetoric, and the topic of in vitro meat. Stanescu regularly engages in public debates on issues related to critical animal studies and animal advocacy.
Kelly Struthers Montford is an Assistant Professor in the Department of History and Sociology at the University of British Columbia Okanagan. Previously she was a postdoctoral research fellow in punishment, law, and social theory at the Centre for Criminology and Sociolegal Studies at the University of Toronto. Kelly received her Ph.D. in sociology from the University of Alberta in 2017. Her research bridges settler colonial studies, punishment and captivity, animal studies, and law, and has been published in Radical Philosophy Review, the New Criminal Law Review, PhiloSophia, the Canadian Journal of Women and the Law, Societies, and PhaenEx: Journal of Existentialist and Phenomenological Theory and Culture, among other venues.
Lori Gruen is the William Griffin Professor of Philosophy at Wesleyan University. She is also a professor of Feminist, Gender, and Sexuality Studies, Science in Society, and coordinator of Wesleyan Animal Studies. She is the author and editor of 11 books. Her work lies at the intersection of ethical and political philosophy and practice, with a particular focus on issues that impact those often overlooked in traditional ethical investigations, e.g. women, people of color, incarcerated people, non-human animals. Gruen has also documented the history of The First 100 chimpanzees in research in the US (http://first100chimps.wesleyan.edu) and the journey to sanctuary of the remaining chimpanzees in research labs, The Last 1000 (http://last1000chimps.com).
Maneesha Deckha is Professor and Lansdowne Chair in Law at the University of Victoria. Her research interests include critical animal studies, animal law, postcolonial feminist theory, and reproductive law and policy. She is widely published and has received multiple grants from the Social Sciences and Humanities Research Council of Canada and other funding bodies. She also held the Fulbright Visiting Chair in Law and Society at New York University. She is currently completing a book project on feminism, postcolonialism and critical animal law and serves as the Director of the Animal Studies Research Initiative at the University of Victoria.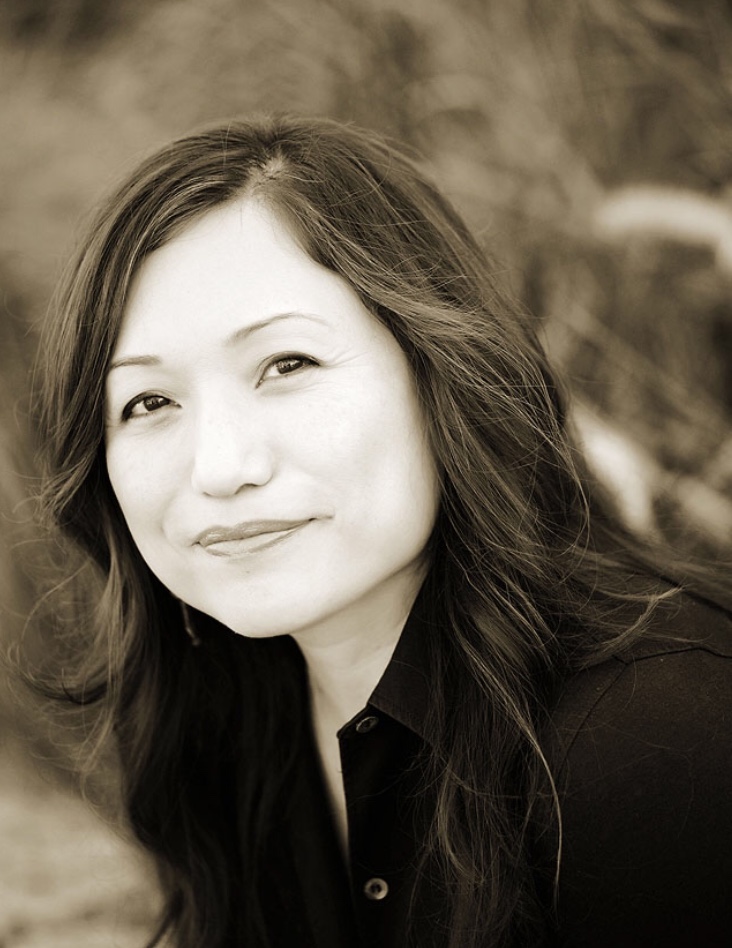 Claire Jean Kim is Professor of Political Science and Asian American Studies at University of California, Irvine, where she teaches classes on human-animal studies and comparative race studies. She is the author of Dangerous Crossings: Race, Species, and Nature in a Multicultural Age (2015) and "Murder and Matter in Harambe's House" (2016). She was the co-editor of a special issue of American Quarterly, "Species/Race/Sex" (September 2013), and co-organizer of the Race and Animals Institute at Wesleyan University in 2016. She is currently working on a book on race, animals, and ecological crisis.
Sunaura Taylor is an artist and writer. She is the author of Beasts of Burden: Animal and Disability Liberation (The New Press, 2017), which received the 2018 American Book Award. Taylor has written for American Quarterly, New Labor Forum, Yes! Magazine and other outlets. Her artworks have been exhibited at venues such as the CUE Art Foundation and the Smithsonian Institution.Taylor holds an MFA in Art Practice from the University of California, Berkeley, and is a PhD candidate in American Studies in the Department of Social and Cultural Analysis at New York University.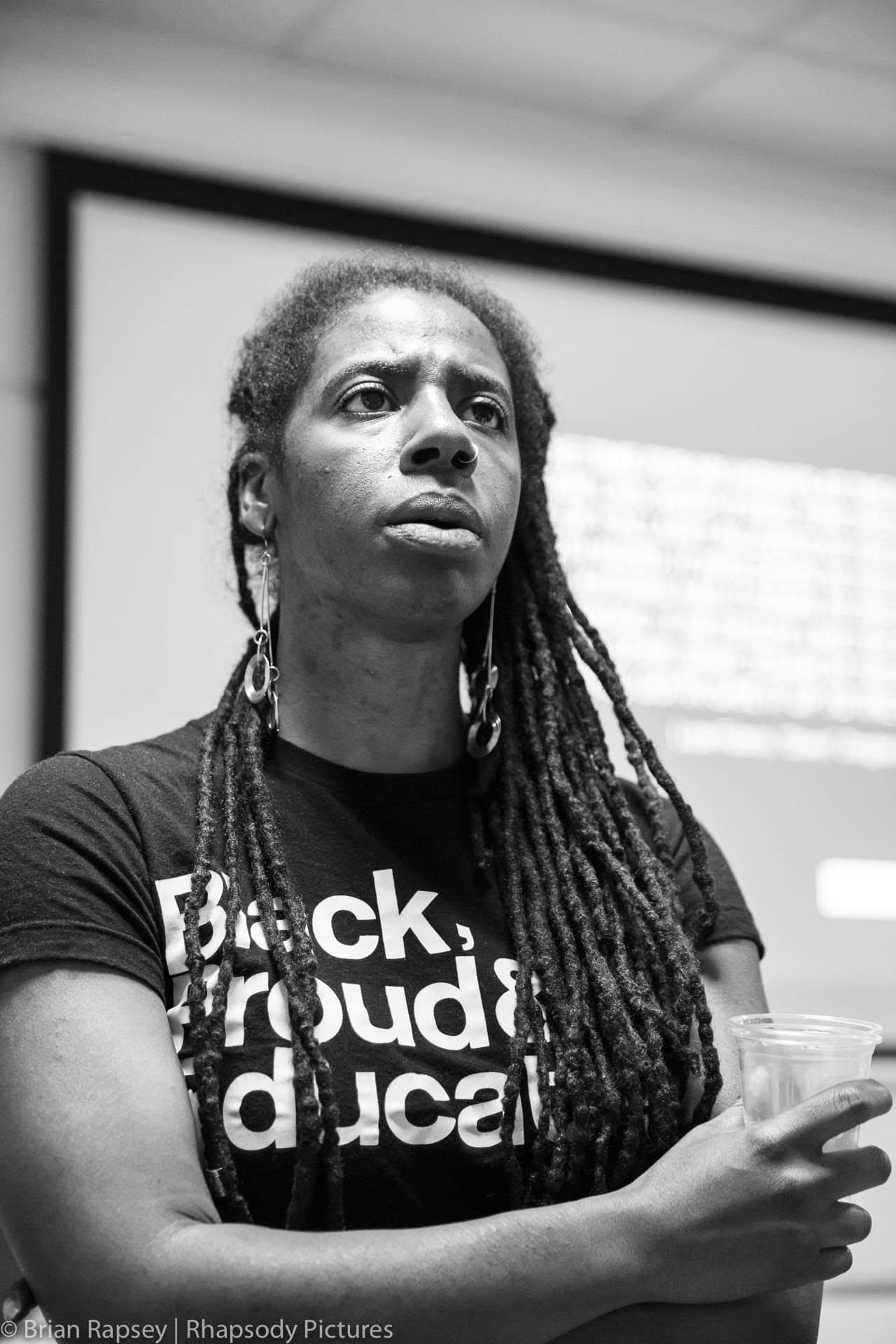 Nekeisha Alayna Alexis is an independent scholar with wide-ranging interests in human and animal oppression, intersectionality, and co-liberation with other animals; and Christian ethics and theology concerning other animals. The Trinidad-native and long-time New Yorker resides in Elkhart, Indiana, where she is an administrator at Anabaptist Mennonite Biblical Seminary. She received her undergraduate degree with a concentration in Africana studies from New York University and Masters of Arts: Theological Studies from AMBS. Her most recent essay is "There's Something About the Blood: Tactics of Evasion in Narratives of Violence" in Animaladies (Bloomsbury, 2018) and she is a contributor to Routledge Handbook on Animals(forthcoming, 2019). Locally, she co-organizes Black and Vegan: A Gathering (Vegan Michiana) and other justice-oriented initiatives. She enjoys performing with an African dance company and her band, rebel noire.
Since 2011, Darren Chang has been learning and sharing knowledge in struggles against the oppression of more-than-human animals, humans, and the destruction of our shared world. He currently resides in Toronto, working on various grassroots animal liberation projects. Darren holds an MA in political theory and critical animal studies from Queen's University (2017), and researched under the supervision of philosopher Will Kymlicka. His main research interests focus on animal liberation in the contexts of colonialism, how to build solidarity and practice mutual aid across species to challenge oppressive powers.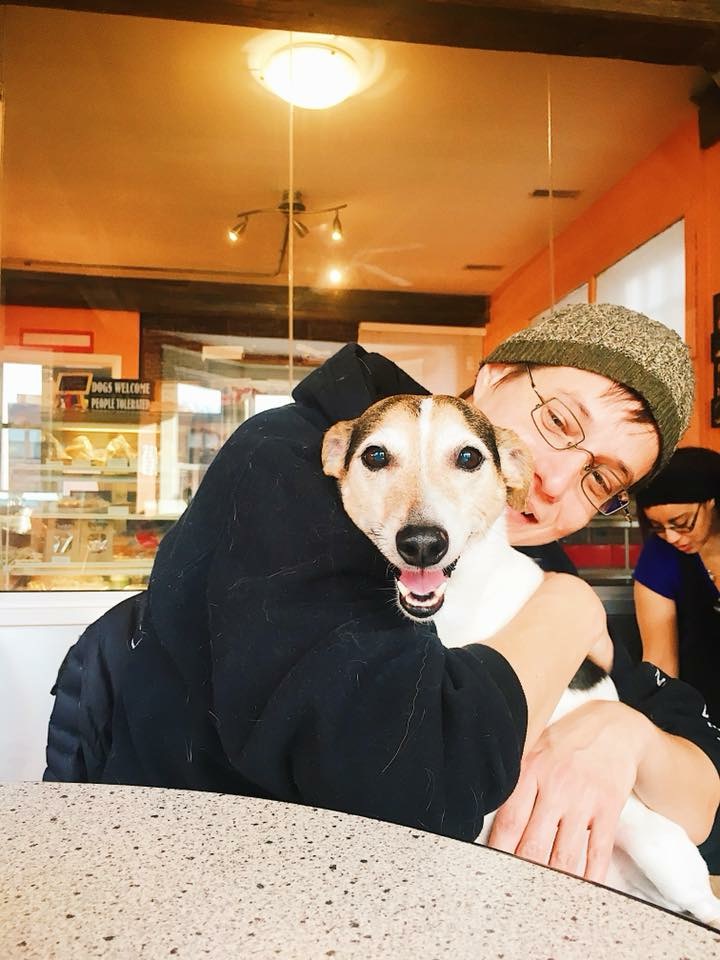 Tracy McDonald is an associate professor of History at McMaster University in Ontario, Canada. Trained as an historian of Russia and the Soviet Union, and having worked in film and agrarian studies, her work now focuses on animals in a number of historical contexts. She has three current research projects. One is a study of the capture, transportation, and exhibition of exotic animals in the USSR, 1924-1964. The second looks at acclimatization of beaver and sea otters in the Soviet Union in the 1930s and 1940s. And, the third, is a biography of a young gorilla (1911-1915).
Tayler Zavitz is a PhD candidate and sessional instructor in the Sociology department at the University of Victoria. Her current research focuses on the repression of animal activism in Canada, the expanding criminalization of dissent, and what this means for the future of activism in Canada. She also holds a Masters degree in Critical Sociology, with a focus in Critical Animal Studies, from Brock University. She is the current social media coordinator for the Animals & Research Initiative at the University of Victoria, as well as a peer reviewer for the Journal of Critical Animal Studies.
Jodey Castricano is Associate Professor in the Department of English and Cultural Studies at the University of British Columbia, Okanagan, Research Fellow at the Oxford Centre for Animal Ethics in the UK and an activist. Her research interests include Critical Animal Studies (CAS), Studies in Eco-Cultures (Anthropocene Studies/Ecofeminism), Gender & Women's Studies and Gothic Studies. She is the author of Cryptomimesis: The Gothic and Jacques Derrida's Ghost Writing, contributing editor to Animal Subjects: An Ethical Reader in a Posthuman World and Animal Subjects 2.0 and author of numerous articles on CAS and the gothic. She is currently working on two projects: Animal Advocacy or Ethnocentrism?: The Interventionist's Dilemma and the Metaphysics of Gothic: Neo-Animism, Quantum Theory and the Sacred (forthcoming U Wales Press).
Image: Jodey with two wolves at a wolf sanctuary.
Hallie Abelman a performance artist and writer committed to intersectional environmental justice and critical approaches to animal-centric coloniality and ableism in popular culture. She recently completed an M.A. in performance studies at NYU Tisch, where she served as research assistant to the eco-theatre scholar Una Chaudhuri and did research on mad cow disease, the animalization of Black politicians, fake taxidermy and queer vegan pop music. In 2016 she completed an MFA at The Sandberg Instituut in Amsterdam with a thesis titled Ethical Means, Radical Opportunity: Pets in Performance. In the past she has managed the studio of Dutch artist Melanie Bonajo and worked for Grey2kUSA, Penland School of Crafts, and Hospice. Her work has been exhibited at Art Museum of Nanjing, Reykjavík International Film Festival, EYE Filmmuseum, Torpedo Theatre (NL), Neverneverland (NL), Burgerweeshuis (NL), Het Vijfde Seizoen (NL), and Mister Motley.
Jessica Eisen is an Assistant Professor at the University of Alberta Faculty of Law. Her research interests include animals and the law, constitutional and comparative constitutional law, equality and antidiscrimination law, feminist legal theory, intergenerational justice, and law and social movements. Professor Eisen's research has been published in Journal of Law and Equality, Animal Law Review, Canadian Journal of Poverty Law, Transnational Legal Theory, Queen's Law Journal, ICON: International Journal of Constitutional Law, University of British Columbia Law Review, Berkeley Journal of Gender, Law & Justice, and elsewhere.
Alison Suen is an assistant professor of philosophy at Iona College, New York. She received her BA in Philosophy from University of Northern Iowa in 2006, and her PhD in Philosophy from Vanderbilt University in 2012. In 2015 she published The Speaking Animal: Ethics, Language and the Human-animal Divide with Rowman and Littlefield International. Her articles have appeared in philoSOPHIA: A Journal of Continental Feminism, Teaching Philosophy, and Feminist Philosophical Quarterly. She is interested in various intersections between feminist philosophy and animal ethics. Inspired by her cat Linguini, she is currently working on a project on slackers.
Matthew Calarco is Professor of Philosophy at California State University, Fullerton, where he teaches a wide variety of courses in applied ethics and the history of philosophy. His research focuses on animal philosophy, Continental philosophy, environmental philosophy, social justice movements, and decolonial approaches to land and the more-than-human world. He is author of Beyond the Anthropological Difference (2019), Thinking Through Animals: Identity, Difference, Indistinction (2015), and Zoographies: The Question of the Animal from Heidegger to Derrida (2008). He is currently at work on a book on the social and ontological significance of roadkill.
Carrie P. Freeman, PhD is an Associate Professor of Communication at Georgia State University in Atlanta. She publishes on media ethics, strategic communication for activists, environmental communication, and critical animal studies. Her 2014 book on vegan advocacy is Framing Farming: Communication Strategies for Animal Rights (www.framingfarming.com). Since the 1990's, she has volunteered running and participating in grassroots animal rights and vegetarian groups, including being faculty advisor for her campus animal rights club. For almost a decade she has co-hosted animal and environmental protection shows on WRFG-Atlanta (Radio Free Georgia).With Dr. Debra Merskin, she co-authors the www.animalsandmedia.org styleguide for responsible media.
David Nibert is a professor of sociology at Wittenberg University where he teaches courses on the oppression of nonhuman animals and global injustice. He is the author of Animal Oppression and Human Violence: Domesecration, Capitalism and Global Conflict (Columbia University Press) and Animal Rights/Human Rights: Entanglements of Oppression and Liberation (Rowman/Littlefield). He edited a two-volume book titled Animal Oppression and Capitalism, a work that includes chapters from 28 distinguished scholars and includes art by the renowned political artist Sue Coe (Praeger Press).
Kathryn Gillespie, PhD is a writer, feminist geographer, and critical animal studies scholar. She is the author of The Cow with Ear Tag #1389, a book about the lives of cows in the US dairy industry. She is co-editor of Vulnerable Witness: The Politics of Grief in the Field; Critical Animal Geographies: Politics, Intersections and Hierarchies in a Multispecies World; and Economies of Death: Economic Logics of Killable Life and Grievable Death. Her current work focuses on the entanglements of anthropocentrism and racialization under capitalism.
Liam Young completed his PhD on the periodical press and nineteenth-century vegetarian movement at the University of Alberta, where he now teaches English. He has published on animal studies, Victorian vegetarianism, and W.B. Yeats.
Lauren Corman is an Associate Professor of Sociology at Brock University. She teaches in the areas of critical animal studies and contemporary social theory. Her early politics were forged in the crucible of the 90s Winnipeg punk scene and gender studies, catalyzing an enduring research interest in the racialized, classed, and gendered dynamics of slaughterhouse labour. Prior to Brock, she hosted the Animal Voices radio show, an animal advocacy program dedicated to social justice. She continues to interrogate "the question of the animal(s)" from intersectional, decolonial, and anti-capitalist perspectives. Her current foci include trauma, sociality, and interspecies subjectivity. She is working on a book about the complex histories of particularly vilified animals. She is the co-editor of Animal Subjects 2.0. and the first professor hired to specialize in critical animal studies.
Cristina Hanganu-Bresch is Associate Professor of Writing and Rhetoric at the University of the Sciences in Philadelphia. Her research has focused on the rhetoric of psychiatry, as well as on the practice of scientific and technical communication. Currently, she is interested in critical animal studies and in particular in veganism as an embodied social, political, and rhetorical practice. She is currently co-editing of a book on Vegetarian Arguments in Culture, Theory, and Practice: The V Word (with Palgrave, Animal Ethics Series) and working on several other projects on veg(etari)anism; orthorexia; and the intersection of rhetorical and animal studies.
Susan Hamilton, English and Film Studies at the University of Alberta, studies the 'social and spatial belonging of animals' in Victorian culture. Publications include: "Dogs' Homes and Lethal Chambers, or what was it like to be a Battersea Dog?" in Animals in Victorian Literature and Culture (Palgrave Macmillan); "Animals in/as Genre: Serial Genre and Social Action in the Victorian Anti-Vivisection Press, Journal of Modern Periodicals, and "Cruelty to Animal Act 1876," for BRANCH. Her current project focuses on the visibility of animals in campaigns about their welfare (the use of illustration and photography) and on the ways in which the transformation of the technologies of killing animals in this period (including changes to slaughterhouses and the invention of lethal chambers) shaped the presentation of animal welfare to broad 19th century publics.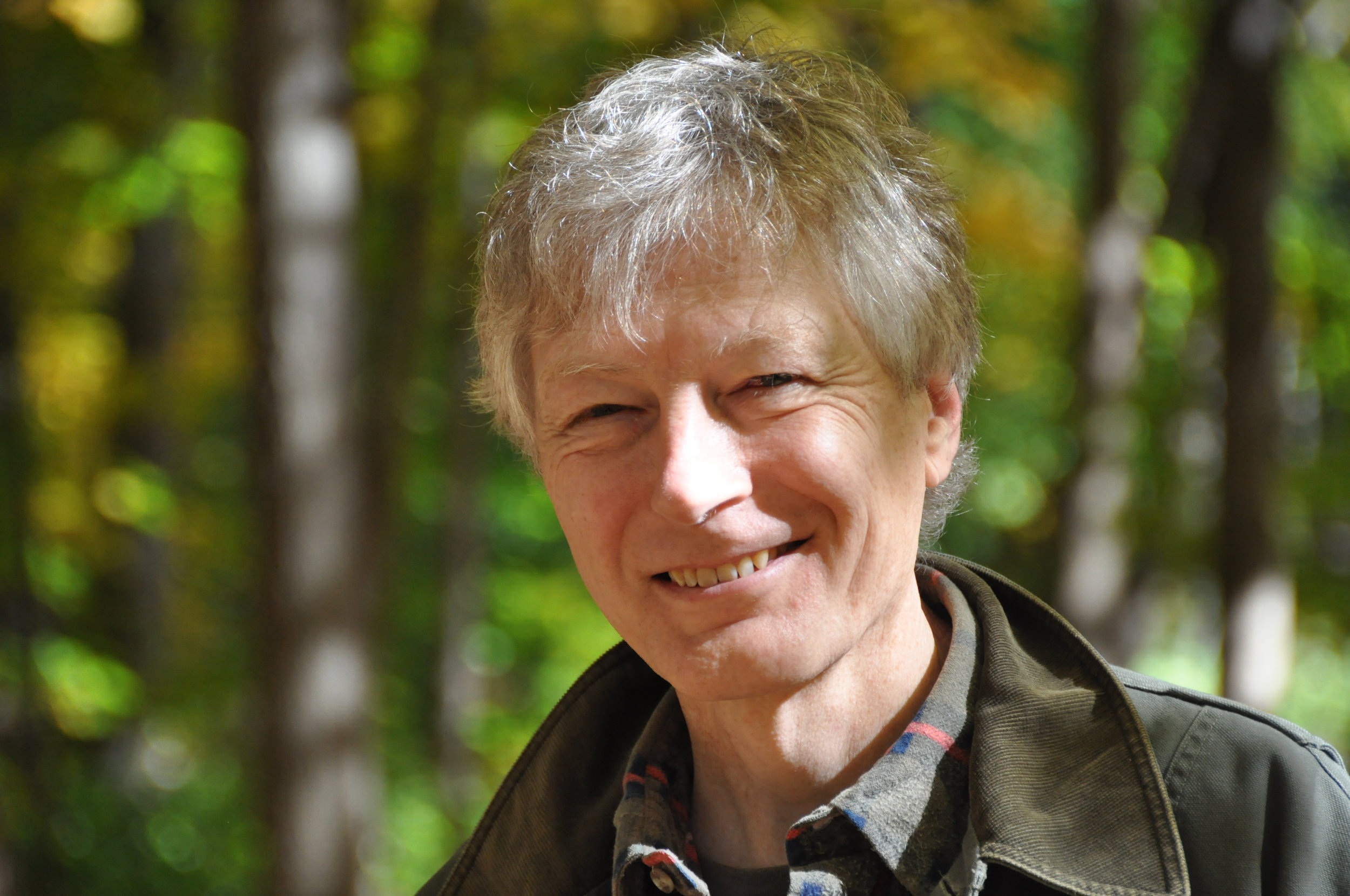 John Sorenson teaches Critical Animal Studies at Brock University. His past research was on war, nationalism and refugees; he was active in various solidarity groups and relief work in Africa. His 2019 book, co-edited with Dr. Atsuko Matsuoka, is Dog's Best Friend? Rethinking Canid-Human Relations. Recent books include Critical Animal Studies: Towards Trans-Species Social Justice; Constructing Ecoterrorism; Critical Animal Studies: Thinking the Unthinkable and Defining Critical Animal Studies. Other books are Animal Rights; Ape; Culture of Prejudice: Arguments in Critical Social Science; Ghosts and Shadow; Imagining Ethiopia; Disaster and Development in the Horn of Africa; and African Refugees.
Rosemary Collard is a human geographer and political ecologist whose research aims to develop political economic explanations for what scientists call defaunation. She combines primary field research with critical theory – especially feminist and postcolonial political economy, environmental justice, ecofeminism, and animal studies – to investigate how colonialism and capitalism have shaped animal life and relations between people and animals, especially wildlife. She has an ongoing project tracking the global exotic pet trade, and a new project on woodland caribou extirpation. She is an assistant professor in geography at Simon Fraser University and an editor of the journal EPE: Nature and Space.
pattrice jones is a cofounder of VINE Sanctuary, an LGBTQ-led farmed animal refuge working for social and environmental justice as well as animal liberation. pattrice's contributions to critical animal studies include one book -- The Oxen at the Intersection (2014) -- and numerous chapters in edited collections, including Animaladies (Gruen & Probyn-Ramsey, 2018), Animal Oppression and Capitalism (Nibert, 2017); Ecofeminism (Adams & Gruen, 2014); Sister Species (Kemmerer, 2011); Minding the Animal Psyche (Bradshaw, 2010); and Contemporary Anarchist Studies (2009) as well as articles in the journals Feminism & Psychology, QED: A Journal in GLBTQ Worldmaking, and the Australasian Animal Studies Journal.

Ellen Campbell is a JD candidate at the University of Victoria, concentration in Environmental Law and Sustainability. Ellen holds an MA from the University of British Columbia Okanagan. Her thesis studied colonialism and racism in non-profits' enforcement of conservation and animal law, for which she completed five months of field work on two Sea Shepherd campaigns and a BCSPCA practicum. Ellen has worked and volunteered with Radical Action with Migrants in Agriculture as a legal advocate, researcher, and videographer and was a field producer for an award-winning documentary on sea turtles. She volunteers with Rescue and Sanctuary for Threatened Animals as a grant writer, Warren Peace Bunny Sanctuary as a legal advocate, and Pacific Centre for Environmental Law and Litigation as a legal intern.
Karen M. Morin is Professor of Geography and Associate Provost at Bucknell University, in Lewisburg, Pennsylvania. Her interests span the history of geographical thought in North America, postcolonial geographies, carceral geographies, and critical animal studies. Most recently she authored Carceral Space, Prisoners and Animals (2018), and is now at work on a project tentatively titled, Cattle Trails and Animal Lives: The Founding of an American Carceral Archipelago.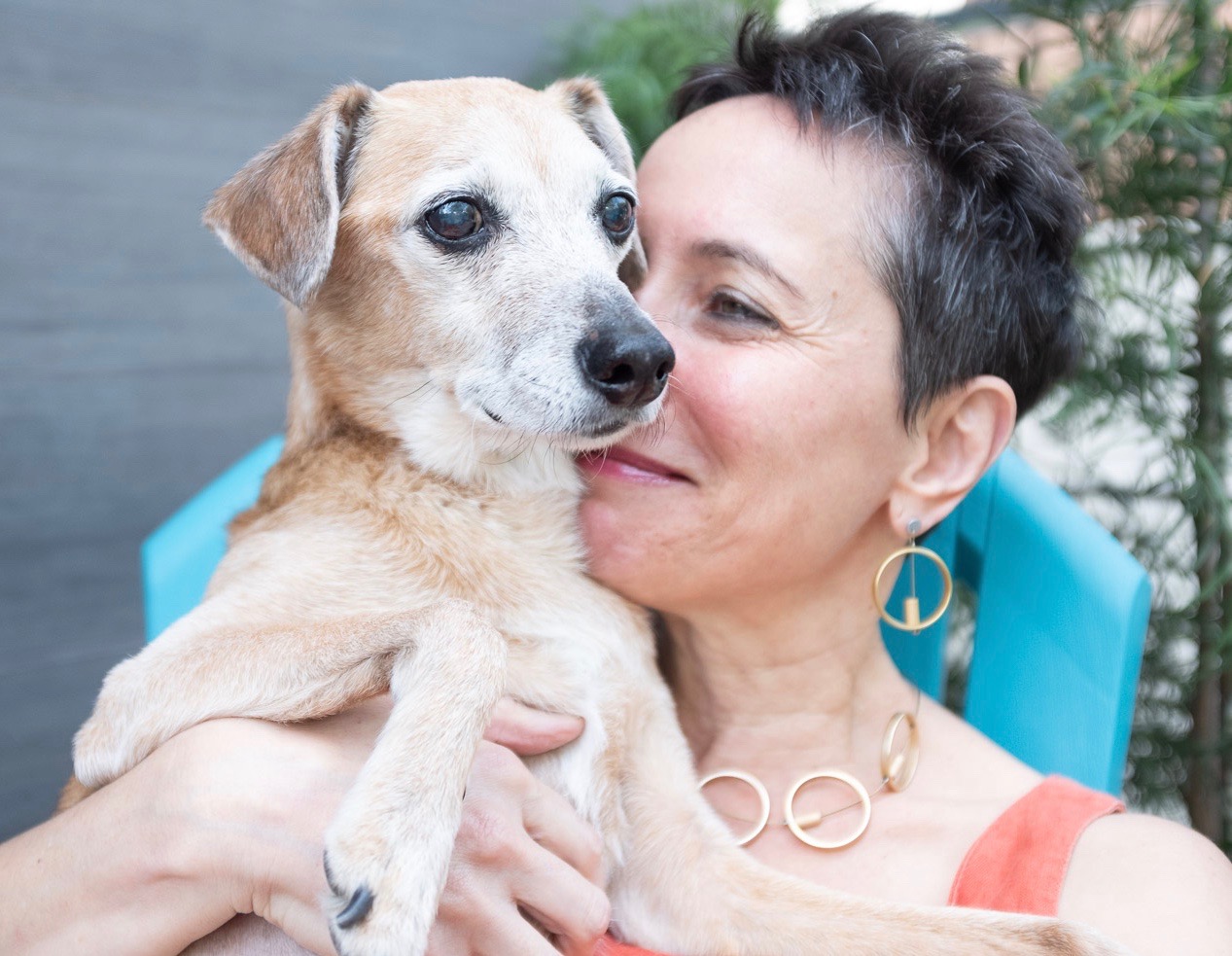 Alexandra Isfahani-Hammond
Alexandra Isfahani-Hammond is Associate Professor Emeritus of Comparative Literature and Luso-Brazilian Studies at the University of California, San Diego. Her publications on Critical Animal Studies and the legacies of African enslavement include "Haunting Pigs, Swimming Jaguars: Mourning, Animals and Ayahuasca" (2019), "Akbar Stole My Heart: Coming Out as an Animalist" (2013), and White Negritude: Race, Writing and Brazilian Cultural Identity (2008). Her current book project, "Home Sick," blends theory with creative nonfiction to meditate on grief, end of life, the medical-industrial complex, Islamophobia and the commodification of (human and nonhuman) animals. In addition to her scholarly publications, she has written for popular media including The Advocate, CounterPunch, Ms. Magazine, Truthout and Persianesque.
Mona Seymour is Associate Professor of Urban and Environmental Studies at Loyola Marymount University. She is broadly interested in the ways in which veganism and animal liberationism appear in agrifood movements. Her current research and organizing efforts revolve around the veganic agriculture movement. She is working on a collaborative research project on the values, experiences, and practices of U.S. veganic farmers, and maintains an online map of North American veganic farms in order to support connections between growers.
A. Marie Houser is a writer, editor, and former performance artist and faculty adjunct. In 2017, she published After Coetzee: An Anthology of Animal Fictions, contributed by David Brooks, Melanie Rae Thon, Jonathan Balcombe, and more, and hailed as "urgent fiction and poetry direct from our fractious, fragile social and environmental moment" (Hannah Weber). Houser's most recent scholarship is a novel reading of J.M. Coetzee's Elizabeth Costello through disability and Critical Animal Studies. Drawing on those fields and on her master's degree in relational theory, Houser is completing a hybrid manuscript of memoir and scholarship. She holds another master's, in creative writing, and a B.A. in philosophy, emphasis environmental ethics.
Aph Ko is a writer and independent digital media producer. She is the founder of Black Vegans Rock and co-author of Aphro-ism: Essays on Pop Culture, Feminism, and Black Veganism from Two Sisters. Aph also served as the Associate Producer for the documentary Always in Season, which won the U.S. Documentary Special Jury award for Moral Urgency at the Sundance Film Festival in 2019. She is also the author of the new book, Racism as Zoological Witchcraft: A Guide to Getting Out.